Updated April 23, 2015
We value your business and we know your privacy is important to you. It is important that you know what information we collect from you, how we collect it and what we do with it. We are committed to protecting your privacy. Under no circumstances do we rent, trade or share your email address with any other company for their marketing purposes.
How and When We Collect Information
We collect "personal" information from you when you provide it to us. For example, if you purchase a product from us, we collect your name, mailing address, email address and telephone number. If you sign up to receive a newsletter, we will collect your email address.
We also use Google Analytics to collect cookie-based anonymous data from our website visitors. Please note that no personally-identifiable information is collected by Google Analytics.
What We Do with Your Information
We are committed to protecting your privacy. Under no circumstances do we rent, trade or share your email address with any other company for their marketing purpose.
The personal information you give us when you place an order is used to process and fulfill your order. We also use your personal information for providing customer support.
We partner with credit card processing companies to assist us in processing your payment. Those companies do not retain, share, store or use personally identifiable information for any secondary purposes.
Anonymous information collected by Google Analytics is used in aggregate to help us better understand how visitors use our website and improve our product offering and services. You may opt-out of this data collection by clearing your web browser's cookies or by installing the Opt-Out Browser Add-on, which can be found here.
Your Choice to Opt-Out of Certain Communications
If you are no longer interested in receiving an email announcement for new artwork or store specials, simply click the "Unsubscribe" link found at the bottom of every email we send.
How We Protect Your Information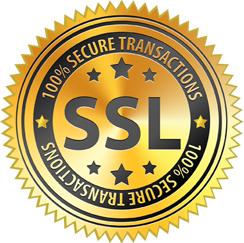 The security of your information is important to us. We have partnered with Beanstream and PayPal to process payments on our website. These companies utilize the highest level of security to protect your personal data.
In addition, our website uses Secure Sockets Layer (SSL) encryption to ensure the safety of any information provided during the order process. You can confirm that SSL is enabled through the display of a locked padlock located in the bottom right corner or in the address bar of your web browser .
When you enter sensitive information such as a credit card number on our registration or order forms, it is immediately sent to our payment partner for processing. We do not store any payment information on our website, including credit card numbers or PIN numbers. We assume no liability for any disclosures of data due to errors in transmission, unauthorized third party access or other acts of third parties, or other acts or omissions.
Updating Your Personal Information
If your personal information changes, you may correct, update or remove personal information by logging back into your account or email your request to artist.c.baker@gmail.com.
Links to Other Websites
Our website and blog may contain links to websites operated by other companies. We are not responsible for the privacy practices of such other websites. We encourage our users to be aware when they leave our site and to read the privacy statements of such other websites. This privacy statement applies solely to information collected by our website.
Changes to Our Privacy Policy
If we change our Privacy Policy, we will post a new version on our Website, which will become effective when posted. The new policy will apply to all current and past users of the Website and will replace any prior policies that are inconsistent with it from the date of implantation.
Contact Us
If you have any questions regarding our privacy policy, please contact us.